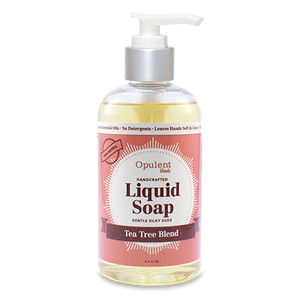 share this product with a friend
Liquid Soap - Tea Tree
NO DETERGENTS - NO PARABENS - PURE VEGAN
Our liquid soap is created by saponifying high quality vegetable oils that offer great emollient & cleaning properties. There is a noticeable advantage using this all natural product over surfactant (detergent) alternatives.

Regular price
$ 8.00
8.5 FL OZ
$ 0.00
We are currently on vacation, all Shipping will resume week of July 17th. We apologize for any inconvenience.

---
AVAILABLE LIQUID SOAP SCENTS
---
---
WHAT MAKES OPULENT BLENDS LIQUID SOAP BETTER?
---
Not all liquid soaps are made the same. We use saponified vegetable fats scented with luxurious essential oils meticulously formulated to create the best product. One wash using our all natural product will change the way you think about washing your hands forever. Using zero detergents we have created the softest, silkiest and effective liquid soap. With a rich and bubbly lather you will wash away the dirt & grime with a clean rinse leaving your hands feeling soft, fresh and hydrated. You will never want to wash with anything else!

Find in a store
Free shipping

on orders of $50
Lemongrass Hand Soap
Wonderful product. Clean fresh scent, not perfumy like others.
Thanks for the lovely review Joanne. Thrilled you are so happy with our soap :)
Tree tea hand soap
I don't use any other hand soap on my hands at home. I love these hand some and I like to change around to the different aromas. And so this time I bought some tree tea and I love it I have also given these soaps for gifts.
If I had to pick a favorite, it would probably be lemongrass or lav spearmint. But, I too, love changing it up :)
If I use any other liquid hand soap my hands get very dry but with your hand soap my hands don't get dry and I use very little lotion on my hands.
Works great
Personal don't like the scent but product works well.

Using safe and natural ingredients is important to us at Opulent Blends. To help you understand our formulations, the label ingredients and their more common names are listed below.
| Ingredient | Common Name | |
| --- | --- | --- |
| Water | Water | |
| Potassium Olivate | Olive Oil Soap | |
| Potassium Cocoate | Coconut Oil Soap | |
| Potassium Avocadate | Avocado Oil Soap | |
| Potassium Castorate | Castor Oil Soap | |
| Glycerin | Glycerin | |
| Sodium Lactate | N/A | |
| Melaleuca Alternifolia | Tea Tree Leaf Oil | |
| Sodium Chloride | Salt | |
| Pogostemon Cablin | Patchouli Oil | |
| Mentha Piperita | Peppermint Oil | |
| Mentha Spicata | Spearmint Oil | |