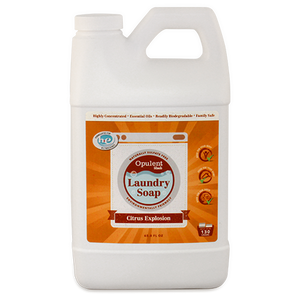 share this product with a friend
Laundry Soap - Citrus Explosion
HIGHLY CONCENTRATED • BIODEGRADABLE • FAMILY SAFE
Our Laundry Soap is a highly concentrated formulation that is safe for the whole family. The natural soaps will leave your clothes clean and fresh. One bottle can clean up to 130 Loads!
Regular price
$ 18.00
65.0 FL OZ
$ 0.00
We are currently on vacation, all Shipping will resume week of July 17th. We apologize for any inconvenience.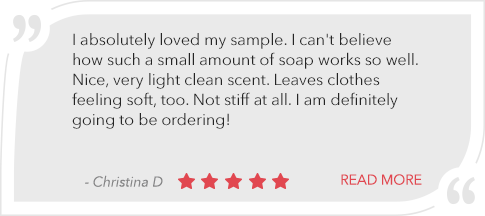 ---
WHAT MAKES OPULENT BLENDS LAUDRY SOAP BETTER?
---
The clothing and bedding we use touches our skin throughout the entire day. It is important that we know what we use to wash those fabrics. It needs to be safe to have constant contact with our largest organ. Wash with confidence using Opulent Blend's all natural Laundry Soap (notice we don't call it detergent because it is naturally made *SOAP*). Not only is it good for our bodies, our home and our planet but it smells great too!

Find in a store
Free shipping

on orders of $50
Finally a good quality laundry soap.
A must have in my laundry room, I have always had bad reactions to laundry soap specially the itching, but with this laundry soap I have been able to wear my clothes itch free!
I am so happy. Also all my clothes look outstanding and come clean with just a small cap full. . Thank you Opulent for a laundry soap that gives so much care to the customer.
Laundry
I have several favorites from Opulent Blends and the laundry soap is one of them. It is the citrus smell, I can use less per load and knowing I am using a 'clean' product. Always have it on hand.
The best!
Clean, light citrus scent, and you only need to use a very small amount per load. I just put a "bloop" into my HE washer tray and it gets the job done. I've also used a bit on a toothbrush to successfully pre-treat big grease spots.
Oooo, I have never tried the toothbrush as a pre-treatment method. Thank you so much for the tip. - Heather
Summer
Smells great, like summer!
So Refreshing!!
Love the smell of this laundry soap. It works great too!
Thank you for taking the time to review our laundry soap! There are lots of people out there that don't know the importance of using natural laundry soaps (doesn't have to be ours). Our clothing and bedding is constantly on our skin ;). I am happy to hear you are enjoying ours! - Heather

Using safe and natural ingredients is important to us at Opulent Blends. To help you understand our formulations, the label ingredients and their more common names are listed below.
| Ingredient | Common Name | |
| --- | --- | --- |
| Water | Water | |
| Glycerin | Glycerin | |
| Potassium Olivate | Olive Oil Soap | |
| Sodium Carbonate | Washing Soda | |
| Potassium Hydroxide | Potash | |
| Potassium Cocoate | Coconut Oil Soap | |
| Sodium Hexametaphosphate | N/A | |
| Sodium Citrate | N/A | |
| Potassium Avocadate | Avocado Oil Soap | |
| Potassium Castorate | Castor Oil Soap | |
| Sodium Sulfate | N/A | |
| Citrus Sinensis | Orange Oil | |
| Citric Acid | Citric Acid | |
| Citrus Paradisi | Grapefruit Oil | |
| Citrus Medica Limonum | Lemon Peel Oil | |
| Cymbopogon Schoenanthus | Lemongrass Oil | |
| Citrus Aurantifolia | Lime Oil | |