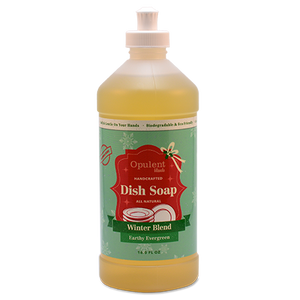 share this product with a friend
Dish Soap - Winter Blend
SAFELY CUTS GREASE • BIODEGRADABLE & ECO FRIENDLY
Tough on grease and dried-on foods, our special formulation will leave your hands soft & moisturized. We use only all natural ingredients & essential oils to create the highest quality, most effective cleanser.

This product is the best choice for you & your home.
Regular price
$ 10.00
16.0 FL OZ
$ 0.00
We are currently on vacation, all Shipping will resume week of July 17th. We apologize for any inconvenience.
---
AVAILABLE DISH SOAP SCENTS
---
---
WHAT MAKES OPULENT BLENDS DISH SOAP BETTER?
---
Our dish soap starts with our tested & true liquid soap created from saponified, high quality vegetable oils. From there, we add additional degreasing agents & water softeners to enhance its cleaning ability and improve the feel to your hands.
We then add our special blend of pure essential oils to create wonderful scents that make housework less like a chore and more enjoyable.
Experience the difference a high quality, responsibly natural, meticulously hand crafted product can make.

Find in a store
Free shipping

on orders of $50
Effective and great smelling dishsoap
I replaced bottle I ordered last time because I love it. IT cleans and shines everyday dishes . Great scent, but not overpowering. I dont want to run out of this product!
Great soap
Not your traditional sudsy soap but so much better at cutting through the grease. Great on the hands. Love having less chemicals in my life but still able to enjoy a great smelling product.
Our dish soap was easily the hardest product for me to switch to...I just LOVE bubbles when I was dishes lol. But, after using for a few years I don't even think about it anymore ;). - Heather
Give it a chance
I wasn't sure at first if I was going to like this dish soap mainly because it doesn't suds up as much as store brands. But I love it! Cleans really well and is great for soaking pans. Soaks the crud right off.
Thank you for giving our dish soap a chance and sharing such a lovely review Trudy. It took me a LONG time to get used to our dish soap as well. Takes a while to adjust to not having all that foam ;). - Heather
Another great product
Another great product from Opulent Blends. It cleans and love the smell. I would use it to wash my hands but I really love their hand soap as well
Love the way it cleans...
I was a little surprised about the lack of suds but this dish soap really cleans. I even tried it on a greasy dish and it came out
squeaky clean. I love the summer blend scent! The only reason I am giving this product a 4 rating is because while it smells great in the bottle, once you dilute it, you can no longer smell it. I was disappointed in that. Otherwise a great
product. I will order this dish soap again.

Using safe and natural ingredients is important to us at Opulent Blends. To help you understand our formulations, the label ingredients and their more common names are listed below.
| Ingredient | Common Name | |
| --- | --- | --- |
| Water | Water | |
| Potassium Olivate | Olive Oil Soap | |
| Glycerin | Glycerin | |
| Lauramine Oxide | Naturally Derived Surfactant | |
| Sodium Carbonate | Washing Soda | |
| Potassium Cocoate | Coconut Oil Soap | |
| Potassium Avocadate | Avocado Oil Soap | |
| Potassium Castorate | Castor Oil Soap | |
| Sodium Citrate | N/A | |
| Abies Siberica | Fir Needle Oil | |
| Bergamot Citrus Bergamia | Bergamot Oil | |
| Cedrus Atlantica | Cedarwood Bark oil | |
| Pogostemon Cablin | Patchouli Oil | |