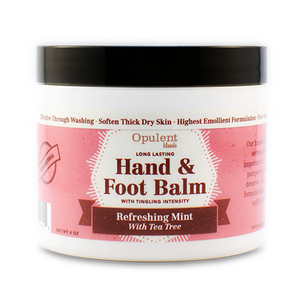 share this product with a friend
Hand & Foot Balm
SOFTEN THICK DRY SKIN • LONG LASTING
Our hands and feet take serious abuse. It is important to give them the pampering they need & deserve. Use our intense formula balm to keep skin soft & nourished.  Apply every night before bed for great results.

We lovingly call this a "Pedicure In A Jar"
Regular price
$ 14.00
NET WT 4.0 OZ
$ 0.00
We are currently on vacation, all Shipping will resume week of July 17th. We apologize for any inconvenience.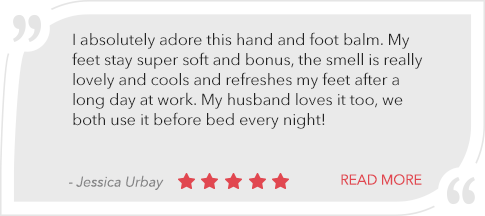 ---
WHAT MAKES OPULENT BLENDS HAND & FOOT BALM BETTER?
---
Specially formulated to be thick yet penetrating to soften even the most dry thick skin on our hands & feet. The long lasting, emollient enriched balm will leave you tingling with delight as the minty aroma both relaxes and rejuvenates you. Created with the most luxurious natural vegetable oils, proteins, vitamins and essential oils, you will feel a difference after the first use. After enjoying multiple applications you will wonder how you ever lived without it.

Find in a store
Free shipping

on orders of $50
Love it all!
Love this balm and everything that I have gotten from this company!
love it but need more 8oz. always OUT OF STOCK
Really like the hand and foot just need more 8oz jars so it's not always out of stock got it once buy one get one yea!
Sorry for the inconvenience Saj. We make large batches of product and unfortunately only offer the 8 oz packaging when we make the product. We would have to invest in new labels and deal with more shelf space, SKUs, etc. It's just not something we intend on investing in, but are happy to offer the option when we are making'packaging the product :)
BEST FOOTCREAM!
I have used this cream for several years and it is the best I can find for my tough calluses and dry feet. It is not greasy and soaks into the skin fairly quickly
It's a product I can't go without!!! It has made a HUGE difference in my feet.
Great feet
Love this cream!! My feet are so soft and rough edges are gone!!
I haven't needed a pedicure in nearly five years, but will with a friend once or twice a year.
Still gotta get my toes painted sometimes though...I just don't do as good of a job :/.
My new favorite!
I received this product as a Christmas gift and have since bought more for myself and gifts for others. I am obsessed with how soft my feet are, and I love the scent!
Hands (feet) down, the BEST PRODUCT WE MAKE, in my opinion!!!

Using safe and natural ingredients is important to us at Opulent Blends. To help you understand our formulations, the label ingredients and their more common names are listed below.
| Ingredient | Common Name | |
| --- | --- | --- |
| Aloe Barbadensis Leaf Juice | Aloe | |
| Water | Water | |
| Hammemelis Virginiana | Witch Hazel Flower / Leaf Distillate | |
| Emulsifying Wax NF | Emulsifier | |
| Ricinus Communis | Castor Seed Oil | |
| Persea Gratissima | Avocado Oil | |
| Theobroma Cacao | Cocoa Butter | |
| Cocos Nucifera | Coconut Oil | |
| Glycerin | Glycerin | |
| Olea Europaea | Olive Oil | |
| Hydrogenated Butyrospermum Parkii | Shea Butter | |
| Cetyl Stearyl Alcohol | Fatty Alcohol | |
| Stearic Acid | Fatty Acid | |
| Myristyl Myristate | N/A | |
| Mentha Piperita | Peppermint Oil | |
| Allantoin | Allantoin | |
| Panthenol | ProVitamin B5 | |
| Hydrolyzed Oats | Oat Protein | |
| Silk Amino Acids | Silk Proteins | |
| Macrocystis Pyrifera | Sea Kelp Extract | |
| Caprylyl Glycol | N/A | |
| Hexylene Glycol | N/A | |
| Wasabia Japonica | Wasabi Root Extract | |
| Zingiber Officinale | Ginger Root Extract | |
| Allium Sativum Bulb Extract | Garlic Bulb Extract | |
| Tocopheryl Acetate | Vitamin E Oil | |
| Rosmarinus Officinalis | Rosemary Leaf Oil | |
| Hydroxyethyl Cellulose | N/A | |
| Melaleuca Alternifolia | Tea Tree Leaf Oil | |
| Cymbopogon Schoenanthus | Lemongrass Oil | |
| Pogostemon Cablin | Patchouli Oil | |
| Mentha Spicata | Spearmint Oil | |
| Lavandula Angustifolia | Lavender Oil | |
| Citrus Medica Limonum | Lemon Peel Oil | |
| Eucalyptus Globulus Leaf Oil | Eucalyptus Oil | |