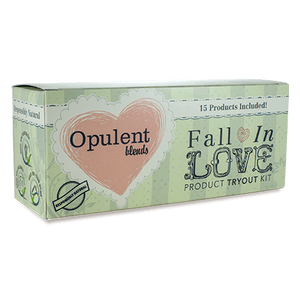 share this product with a friend
Fall In Love Kit
15 RESPONSIBLY NATURAL PRODUCTS
Fall In Love with generously sized samples of the following products: Shampoo, Conditioner, Body Wash, Bar Soap, Liquid Soap, Dish Soap, Laundry Soap, Hand Lotion, Body Butter, Hand & Foot Balm, and Multi Surface Cleaner.  The following products are retail size: Mint Lip Balm, Potty Prep - Travel Size, Hand Sanitizer, and Restroom Survival Kit ($38.50 value).
(Please note, our Rest Rooms Survival Kits have been discontinued for individual purchase. Technically, they are free in this kit).
Regular price
$ 35.00
$ 0.00
We are currently on vacation, all Shipping will resume week of July 17th. We apologize for any inconvenience.
---
WHAT MAKES OPULENT BLENDS EXCLUSIVE COLLECTION BETTER?
---
Treat your body to the Opulent Blends Experience with our personal care products. Your skin will thank you for indulging in our luxurious and fragrant natural product line. By using the finest ingredients and purist essential oils, we are able to bring you an incredible experience from your head to your toes.

Find in a store
Free shipping

on orders of $50
Excited friends!
My girlfriends were so excited to receive their trial bundle after telling them how great the products are!
Excellent Introduction to Opulent Blends
It's awesome this sample kit is offered because it's the perfect introduction to Opulent Blends wonderful products.
The scent is lovely & not overpowering.
I LOVE the hand & foot butter. I just ordered the regular size.
I highly recommend trying these products.
Hand and Foot balm is THE BEST!!! - Heather
Awesome
A great way to try their amazing products!
I am so happy you were pleased with our Fall in Love Kit. Great way to decide what your favorite products and scents are! - Heather
Perfect gift
I gave this as a gift to share chow great all of the Opulent blends products are! They were very happy with your products!
Great way to say "thinking of you"!
I sent a few of these out for Mother's Day and got all sorts of responses, including "wonderful," "Enjoying the hand lotion lemongrass," "Everything you can think of," and "Came at a perfect time." I really enjoy the quality and affordability of Opulent Blends products and am happy to support a local business, too!
<p>Hi Dawn,
<br>Thanks again for all the support you gave us this Mother's Day. I am thrilled that everyone enjoyed their gifts :) - Heather</p>