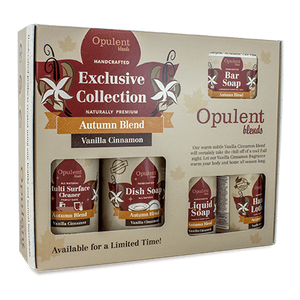 share this product with a friend
Exclusive Collection - Autumn Blend
AVAILABLE FOR A LIMITED TIME!
Our warm subtle Vanilla Cinnamon blend will certainly take the chill off of a cool Fall night. Let our Vanilla Cinnamon fragrance warm your body and home all season long.
This collection contains these full sized prodcuts: Bar Soap, Liquid Soap, Hand Lotion, Multi Surface Cleaner, & Dish Soap
Regular price
$ 44.00
$ 0.00
We are currently on vacation, all Shipping will resume week of July 17th. We apologize for any inconvenience.
---
WHAT MAKES OPULENT BLENDS EXCLUSIVE COLLECTION BETTER?
---
Treat your body to the Opulent Blends Experience with our personal care products. Your skin will thank you for indulging in our luxurious and fragrant natural product line. By using the finest ingredients and purist essential oils, we are able to bring you an incredible experience from your head to your toes.

Find in a store
Free shipping

on orders of $50
Autumn Blend is Scent-sational!
For me, Autumn Blend is scent-sational all year long! High quality products and value from a local company.
Thank you Mary :) What I love about out seasonal scents is they are each so unique and different from each other. It's fun hearing how some people absolutely LOVE some, but the others not so much. Thank you for sharing your seasonal favorite with us :) - Heather