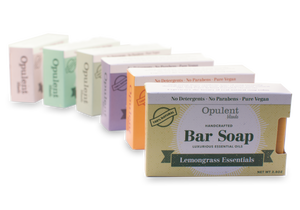 share this product with a friend
Bar Soap Bundle
NO DETERGENTS • NO PARABENS • PURE VEGAN
This bundle makes a great gift. 
Features eight soaps: Citrus, Lavender, Lemongrass, Naked, Rosemary, Autumn Blend, Winter Blend and Tea Tree.
Stop using those synthetic bars of soap (actually detergent) that dry out your skin, remove your natural oils and leave behind harmful chemicals.
Experience the luxury of real natural soap today.
Regular price
$ 45.00
NET WT 4.0 OZ
$ 0.00
We are currently on vacation, all Shipping will resume week of July 17th. We apologize for any inconvenience.
---
AVAILABLE BAR SOAP SCENTS
---
---
WHAT MAKES OPULENT BLENDS BAR SOAP BETTER?
---
It all started here...We say "Experience the Difference" & "Experience the Luxury" for a reason. If you have not tried real handcrafted soap you should not deprive yourself any further. The silky super suds it creates leaves your skin soft & clean. It feels like nothing you have ever used before whether that be bar soaps or shower gels. Don't forget it feels like you are in a spa when you walk in your bathroom and during every shower.

Our bars are all natural, pure vegan, and contain no parabens. They differ from traditional detergent soap bars that strip your skin of its natural moisture, leaving behind harsh chemicals and dry skin. Available in assorted aromas all created with wonderful essential oils.

Find in a store
Free shipping

on orders of $50